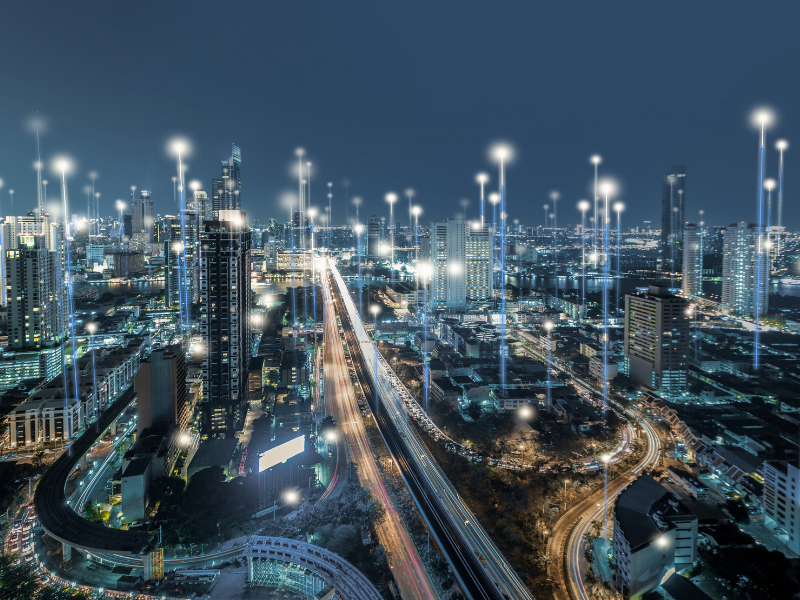 Being connected is not enough for today's businesses. 
To be efficient and keep customers and internal stakeholders engaged, now and in the future, organizations need to champion true interconnectivity.
Interconnection is an IT strategy that enables companies to directly, privately, and securely exchange data.
Whether you're a national business, a global enterprise in multiple markets, or a SaaS provider, Interconnection is essential for connecting to customers and partners.
.
Who needs Interconnection?
Almost all businesses, across every sector, have been impacted by the transition to cloud services and the need to connect one cloud or data center to another is at the heart of new global business models.
Cloud adaptation and digital content delivery and services are driving significant demand for Interconnect among service providers, but data center interconnect (DCI) is also becoming more crucial for other industries.
Content is a big driver for Interconnection, with traditional networks increasingly taxed by video traffic, e-sports, rich media, and streaming music increasing demand for DCI. Further, the rapid growth of the Internet of Things (IoT) will continue to exacerbate bandwidth challenges with billions of new devices coming online.
Due to the nature of traffic moving between data centers or public clouds, dedicated low latency, high bandwidth interconnection becomes more desirable.
Why is Interconnection important?
The rapid migration to Cloud and diversification in the types of Cloud is one of the primary reasons for the growing importance of Interconnection.
Interconnections ecosystems have the inherent ability to seamlessly support simultaneous connections to diverse entities and IT components thereby establishing a sophisticated network architecture that significantly reduces costs and improves performance.
By cohesively integrating digital infrastructure and services at software-defined speeds in a secure environment, Interconnection accelerates scalability and ramps up network agility to build a strong foundation of an always-ready digital ecosystem.
What are the different types of datacenter Interconnection?
The public nature of the Internet means that you cannot predict any sort of latency or jitter.
By cohesively integrating digital infrastructure and services at software-defined speeds in a secure environment, Interconnection accelerates scalability and ramps up network agility to build a strong foundation of an always-ready digital ecosystem.
Interconnection can be broadly categorized in four types:
A Peering Exchange is the direct connection between two or more network carriers without any third-party involvement. Usually carried out through an Internet Exchange Point (IXP), Peering Exchanges ensure that a network can seamlessly peer with multiple other networks through a single connection
Cross-connect refers to the direct hardware linkage (via cables, cords, etc.) between multiple IT components within a Data Center.
Colocation Data Centers offer an added advantage by facilitating seamless connectivity to multiple Cloud Service Providers and Internet Service Providers through a single cross-connect within the same Data Center premise.
Inter-site connectivity is a physical or virtual link between two or more facilities in the Colocation Data Center's network. The fundamental idea with this type of Interconnection is to provide limitless scale and network-leveraging properties within a single facility.
Load balancing, traffic management, and undisrupted connections are some of the tangible benefits, along with access to remote locations through regional Interconnection hubs.
Blended IP involves a Colocation Data Center working with upstream carriers and multiple ISPs to create an SLA-backed solution. Such network architectures develop a variety of redundancies, thus ensuring a seamless performance across providers. It saves the organisation from negotiating with different ISPs and delivers better transitions than a single provider.
How to Choose A Data Center with The Best Interconnection Ecosystem?
Choosing the right Data Center depends on multiple factors. Much depends on the traffic and capacity needs of the organization, dividing the priorities between scalability and pay-as-you-go models.
In line with the organization's data management objectives, an ideal Data Center should address the following:
Carrier availability is one of the few make-or-break decision parameters for any enterprise. With the proliferation of multiple Telcos, ISPs, CSPs, and Internet Exchanges, the need for a 'home base' that is neutral and one that offers the maximum choice of these service providers becomes overwhelmingly imperative.
It is precisely in this context that Interconnection becomes so crucial. Since each organization has its own set of vendors of choice for different services, an ideal Data Center should have a robust and carrier-agnostic Interconnection ecosystem that ensures that organizations have a wide range of vendor choices that cohesively integrate with their existing WAN ecosystem.
When mapping out the physical route of the network, the shortest distance possible must be aimed for. Since the latency (a measure of time) increases as data travels from one Data Center to another, Interconnection should happen at carrier-neutral exchange points that are in close proximity to each other.
High capacity and seamless scalability should be facilitated without a massive infusion of CAPEX. Data Centers with cohesive Interconnection networks allow the system to margin and support applications from the metro to sub-sea areas within a single platform.
With the rapidly changing demand for network availability, the Interconnection network should be such that it seamlessly facilitates reactive load sharing during traffic spikes.
4. Instant Access to Multiple ISPs, IXs, CDNs, and CSPs
An ideal Data Center provider will have long-term partnerships with all the major Internet Service Providers (ISPs), Internet Exchanges (IXs), Content Delivery Networks (CDNs), and Cloud Service Providers (CSPs). This not only ensures that organizations have a wide range of service providers to choose from but only makes rapid scalability a relatively easy task by aggregating resources for enhanced flexibility.
5. Integration with Financial Services
Consumer-facing industries such as e-commerce, health, finance, and public services need a seamless Interconnection network between different service providers and third-party organizations. This includes banks, payment gateways, payment processors, certifying authorities, CSPs, etc. An ideal Data Center provider may also facilitate connections with all major financial service providers for cohesive data transmissions and operational transitions.
Advancements in the Interconnection ecosystem have set new benchmarks for virtualization and scalability. With IT teams running to ramp up the flexibility within their systems, an organization should look for Data Center providers that can leverage the back-office applications with highly programmable platforms.
In all scenarios, the digital transformation must break the traditional confines of IT , delivering capacity and processing power on demand.
Interconnection at distributed points in vendor-neutral, Colocation Data Centers is how this can be achieved going forwards.
Netherlands Datacenter the Factory's robust Interconnection ecosystem offers an unparalleled diversity of Internet Service Providers, Internet Exchanges, and physical as well as virtual cross-connects.
Comprising of a rich fabric of local, regional, national, and global Tier 1 Carriers,  ISPs, and major Content Delivery Networks Datacenter the Factory's robust Interconnection ecosystem facilitates flawless connectivity to Europe's largest Peering Exchanges such as DE-CIX, NL-IX, LINX, and MIX.
Whether you are a network carrier, regional ISP, telecom operator, retail enterprise, or a colocation service provider, Datacenter the Factory 's network connectivity partnerships enable companies the scalability and performance needed to connect globally.