What is Datacenter Colocation?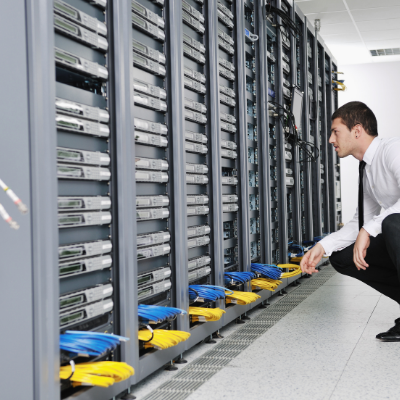 Colocation, colo, or co-located describes the practice of renting datacenter space to companies' to use to house servers and other IT hardware.
Typically, a company will own its IT hardware though physically house the IT equipment in a colocation data center.
Colocation service providers facilitate datacenter colocation housing. Colocation housing solutions include network connectivity, physical security, redundant power and, redundant cooling components which maintain and support the servers and storage provided by the customer. 
What is a Datacenter Colocation Rack?
Whatever your data center project, Datacenter the Factory is an ideal option.  Notably, there is a distinct difference between the type of colocation space that data centers rent to companies.
Wholesale colocation describes renting out an entire data center to a company.
Retail colocation means that multiple companies rent out a specific amount of colocation rack space.(Also known as a multi-tenant data center (MTDC)
A colocation rack is a physical steel and electronic framework that is designed to house servers, networking devices, cables, and other data center computing equipment.
Other types of data center housing space include data center cages and private data center suites.
Top 5 benefits of Datacenter Colocation for your Business
IT Scalability
A common driver for companies that choose to outsource their IT space to a colocation provider is that they've outgrown their existing data solution.
A colocation data center can securely accommodate and adapt to customers changing needs. Service level agreements allow the flexibility for a company to scale services as needed. 
Interconnection
Extensive connectivity is a key benefit of colocation and a key driver for why companies undertake a data center migration Vs building their own private facility. 
Carrier-neutral data centers are not tied to any one service provider (telecommunications, ISP, or other) providing diversity and flexibility for the client seeking service
With multiple Internet service providers, network services, and cloud platforms to choose from, colocation customers can easily build the network infrastructure to meet their specific needs. 
Reliability
Uptime reliability can vary from provider to provider, but it can be one of the outstanding benefits of colocation.  A colocation data center offering >99.99999% uptime reliability, for instance, experiences less than 3.15 seconds of downtime throughout the course of a year. Considering that the average business loses about $300,000 per hour of downtime, finding a provider with a proven reliability track record is essential.
Security and Compliance
Maintaining data security is one of the most important goals for any company. Apart from the legal and ethical obligations of GDPR and to safeguard customer data, Colocation data centers implement state-of-the-art security precautions.
Dedicated IT resources
Establishing a private data center is a significant capital expense and also incurs sizable, and  ongoing operating costs.
Outsourcing data center infrastructure to a colocation facility frees up valuable IT capacity, allowing an organization to focus more on its business goals rather than troubleshooting its IT infrastructure on an ongoing basis. 
Although a data center migration can be a major undertaking for an organization, the benefits of colocation are substantial. By outsourcing the expense of a large IT team, or a private data center, companies can instead focus their resources and effort. By establishing a data center business plan with Datacenter the Factory, an organization can realize significant benefits from a  colocation data center solution.
Datacenter the Factory, Westhoven 6c 6042NV Roermond, NL